I am a DPhil student at the University of Oxford.I have been teaching graduate-level courses professionally for 3 years and I have been tutoring high-school and undergraduate students for over 7 years prior to that.I have had my first academic publication when I was in my final year of high school–
  this was based on my research at the Slovak Academy of Science,Experimental Oncology Lab.I was awarded the ministerial award in recognition of my contributions.My current research and teaching activities are focused on Computer Science and Statistics.
  I am the author of two academic modules at the University of Oxford.First,I designed and co-delivered,with Dr.Nic Lane,the Deep Neural Networks module of the Software Engineering Program.This is the highest-rated and the most sought-after module of the program with oversubscription exceeding course capacity multiple times.Second,I was the designer and sole instructor of the Introduction to Machine Learning for high-school visiting students.This module was designed and delivered for the Royal Institute Masterclass program ran by the university for the benefit of the best Oxford shire pupils.
  I am an accomplished tutor with over 7 years of experience supporting high school and undergraduate students in their studies and their extracurricular activities.Two of those years were spent mentoring and tutoring individual high school students with ambitions of applying to top UK and US universities.I aided my students both in the runup to and in the university application process itself.Prior to their final year,I taught them the research and study skills that helped me further my early research and that ultimately formed the foundation of my university application.This gave them similar range of opportunities I enjoyed and led to their very own research projects for which they were recognized both nationally and
  internationally at Olympiads and other project competitions.In their final year,I supported them in the application process by both teaching them the tools to present their achievements in the best possible light and by closely working with them on their applications–brainstorming,copywriting,and reviewing.
  Finally,I have a fair understanding of Chinese culture and educational environment.Presently,I am developing AI-focused undergraduate-level module to be taught to Chinese audience online.In the course of my studies,I interned at Huawei's Shenzhen headquarters where I worked closely with my Chinese
  colleagues.Finally,I am in regular contact with the Chinese diaspora both in my native Slovakia as well as in my current home in the United Kingdom.
  ·English(Native)·Slovak(Native)·Czech(Native)
  EDUCATION BACKGROUND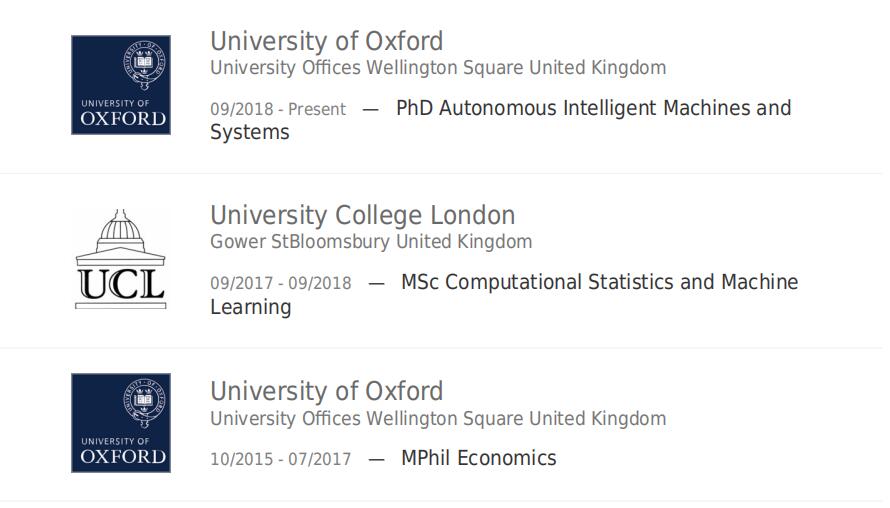 ▪ADMISSIONS COUNSELLING